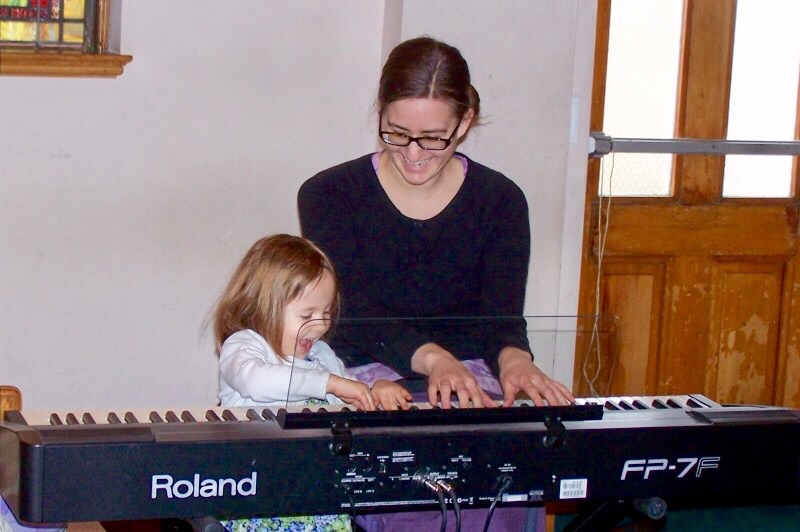 Why should I choose to study piano with Angie verses another teacher?
Fun lessons! I enjoy choosing interesting repertoire for my students. My background is in classical music, but I have performed many other styles of music as well. I think classical music is lots of fun to play and listen to, and I hope to inspire a love of classical music in my students. However, I also enjoy when my students bring their own song choices, too, including pop and movie songs.
Experienced and popular teacher. I have been teaching piano lessons since college. I have been working at Music and Arts since 2009 and usually maintain a studio of about 50 students.
Online lesson scheduling. You've obviously found my website, but did you know you can reschedule your child's lesson right here on my mobile-friendly website? The staff at Music and Arts is very helpful, but when they are busy it can be difficult to reschedule lessons. Their usual response when they are busy is to "discuss it with your teacher." Messages left with the staff at Music and Arts sometimes take a long time to get with me, or might not get to me at all. This website is my answer to this problem.
Recitals! Usually we have two or three recitals per year. My personal twist to the normal recital is that I love the idea of themed events. Last year's Halloween recital had 37 participants.
Online resources. I spend a lot of time reading piano pedagogy blogs (did you know they existed?) to discover new teaching pieces and keep up to date with pedagogy research. Piano lessons have evolved a lot in the past fifteen years as researchers study how children learn music best. I think it's important to play with recordings, learn duets, and play what YOU want to play... Not just what's in the method book. Method books are a great start to learning about different styles of music and becoming a well-rounded

musician

, but there's more out there waiting to be played.
I subscribe to several music services used during lessons, including Piano Maestro, Ultimate Guitar, and Grooveshark.
I love to sing! If you need a break from piano for a few weeks or just want some variety, let's do combination voice/piano lessons. In the words of Frederic Chopin, "You must sing with your fingers." We can learn to produce a better, stronger singing voice using exercises and vocal repertoire. I particularly think it is important to teach my students to read fake books and sing the melody. You can learn to sing, and you can learn to play piano, but you get bonus points if you can do both at once.
Weekly reminders in advance of your lesson. This helps prevent missed lessons, so you can get your money's worth!
Weekly progress reports sent via email. During each lesson, I jot down homework assignments and practicing suggestions in an Evernote file. Occasionally I may include recordings or pictures taken during the lesson (great for avoiding the "I can't remember my hand position" excuse!) After the lesson, I send the updated file by email. The advantage to using this system is that parents and students all know what their homework is each week. Remember that most of your practicing is done at home - your lesson is only 30 or 60 minutes each week! One way to view lessons is that they don't teach you to PLAY piano - they teach you to PRACTICE piano.
I am a member of the National Music Teachers' Association and the Northern Virginia Music Teachers' Association. I am certified to teach Music for Little Mozarts. I received my Bachelor of Music at James Madison University. When I'm not teaching piano, I play organ and keyboard and direct the choir at church.